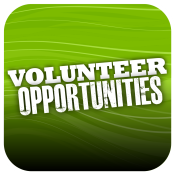 There are many ways to get involved and serve at Access. And for every way to serve, there is a great reason to serve, too. For starters, when you serve at Access you are making a difference in someone's life. Second, it's a great way to meet new people and make a "big-church" experience smaller. And lastly, Jesus said that he didn't come to be served, but to serve, so when we serve others we follow in his footsteps.

It's also good for you to know that at Access no one is ever signing up to serve forever. We are committed to you having a great volunteer experience, and if it isn't what you expected, we'll try to find the right fit for you at Access. Please email us.

"He handed out gifts above and below, filled heaven with his gifts, filled earth with his gifts. He handed out gifts of apostle, prophet, evangelist, and pastor-teacher to train Christ's followers in skilled servant work, working within Christ's body, the church, until we're all moving rhythmically and easily with each other, efficient and graceful in response to God's Son, fully mature adults, fully developed within and without, fully alive like Christ." – Ephesians 4:11-12

Mission Statement
To provide an exceptional service that is focused not only on strengthening existing believers but to provide an environment that allows the unconvinced to become lifelong followers of Jesus. We are able to accomplish this by being representatives of Jesus as we serve.

Our Motto
We do not see ourselves as volunteers but as obedient servants of Jesus who have been given the privilege and honor to serve in His Kingdom with the talents and gifts He has given each and every one of us.

A spiritual gift is given to each of us so we can help each other. – 1 Corinthians 12:7

Immediate Openings:
• Childrens Church (BackGround Check and App.)
• First Impressions Team
• Media Team (main service)
• Usher Team
• Worship Band
• Maintance

If you are interested in ANY role regardless if it is open currently or not, please contact church office.

Technical Roles
Music and technology is pretty important to the worship experience at Access. If you are a techie, or musically inclined or just have some cool ideas to share, contact Josh Harris to see how you fit into the Creative Arts team at Access. There are always needs of various capacities so don't hold back; let your creative light shine!

Audio Team
Technical team that is responsible for mixing the soundboard during Sunday service. If you love adjusting and tweaking sound to provide an exceptional audio experience this is the role for you. Team serves in adult, student and youth program.

Visual Team
Team that is responsible for on-screen worship lyrics, video & lighting during Sunday Service. If you are familiar with presentation software and you are good for watching for ques for when to transition properly between videos, graphics and songs, this is the role for you. Team serves in adult, student and youth program.

Graphic Design
Role involves meeting the graphic needs of the church which can include design of worship guides, information cards, teaching materials, advertising, etc. Do you love graphic design? If the answer is yes, then this role is for you.

Video Production - (In-Progress)
Writing scripts and production of videos to be used during Sunday services for adult, student and/or youth programs. If you love creating videos, this is the role for you.

Worship Team
Multiple teams lead worship service for adult, student and youth ministry. If you love Jesus and you are a musician then this is the role for you. Please let us know which ministry you would like to audition for!

Guest Services

First Impressions
Team welcomes guests including meeting and assisting new guests. Handout worship guides or other materials as needed. If you have a great smile, upbeat attitude and love meeting people, this is the role for you. You are the first impression to our guests!
We all know how important first impressions can be. Many people make decisions on returning to Access based on the manner in which they were or were not greeted at the door, and even before that, in the parking lot.
Visiting a new church is an intimidating experience for most visitors. The First Impression Team will do its best to remove the intimidation issue and allow our visitors to feel "at home" at Access.
This group has the important task of making newcomers and members alike feel acknowledged and welcome, giving out handshakes and hugs, and giving quick breakdowns of where the nursery and kids programs are taking place so the visitor can feel comfortable in worship. The first impression of Access can make a lasting impression on the hearts of visitors, or better yet, our guests!

Hospitailty - Sunday Morning.
This is a huge service opportunity! Lots of help is needed with setting up and breaking down Sunday morning Café (coffee and doughnuts Sunday mornings) and with organizing, setting up and breaking down. If you have been searching for a place to plug in, this is an area in great need.
All together we will serve you as team in order to create a "welcoming" atmosphere. Members of our Hospitality Team will probably be, for most, the first people you, our guests, will encounter in the process of finding your way into the community life of Access Church. This is both a great challenge and a great responsibility, because we understand you, our guests, will be forming opinions about who we are as a church body from the moment you pull into our parking lot.

Our desire as members of the Hospitality Ministry is to serve you with excellence. We believe that the way we care for people is a reflection of the way Our Lord Jesus cares for them.

Administrative
Are you available to help a few hours a week with both routine and misc tasks? Misc roles can include data crunching, ordering supplies, worship guide stuffing, scheduling volunteers, etc. If you need a flexible schedule and have a few hours to help, this is the role for you.

Childrens Ministry
Baby/Toddler Care (Birth to 35 months)
If you enjoy holding and cuddling with babies/toddlers then this is the role for you! Help us provide a loving and safe environment for our youngest members of our church.

Preschool Care (3-5 years-old)
If you enjoy playing with play-doh, coloring an sharing the love of Jesus with ages 3-4, the this is where you want to be! From crafts to music, our pre-school group is always full of energy!

Elementry (1st-5th grade)
If you would love to help our students grow in their faith by teaching and leading then this is the role for you. Participate in discussions with the youth assigned to you, assist in activities, participate in skits and help students to understand the lessons taught.

Youth Ministry: (6th – 12th grade)
Student Leaders for "Excellerate"
Provide mentoring and leadership for our students on Wednesday evenings. Lead discussions and lessons which will allow students to grow in their relationship with Jesus. Plan activities that will help strengthen friendships. If you love teenagers and have a strong desire for them to grow in their faith, then this is the role for you!